Find Houses in Kuaotunu on Airbnb
Fantastic hosts, and great space! Nothing was missing during our stay! They gave me a good advice so that I can't waste my time. Viv is the absolute best. Gorgeous apartment with amazing views of the beach. The small cabin was Clean and well suited for a couple.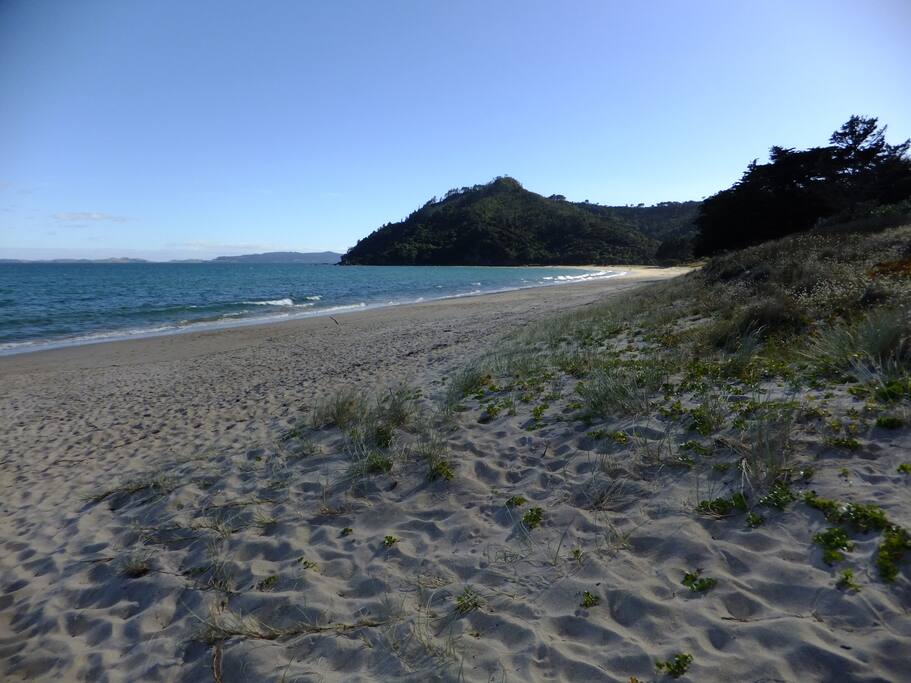 Reviews from guests who stayed in Kuaotunu
The place is fully equipped and they provide so many amenities like home made yogurt, fresh milk, butter, yam, eggs, fruits, cereals, coffee, etc. To the local fruit basket on the bench, the colourful rugs and creative charm. They can let you know the best spot on hot water beach, recommend near by short walks Shakespeare Cliffs is worth a visit and more. We loved our little 'studio apartment' on Kim and Terry's property.
It had everything we would need for an evening stay and was super cute and well-decorated. They left us breakfast essentials eggs, bread, milk, muesli, etc. Kim and Terry gave us great advice for Hot Water Beach they even provided the towels and a spade to dig our own hole! If you're in the area, I would certainly recommend that you stop by for an evening - such a quirky and fun place! We were so delighted to have found such unique gem of a place. Quiet, tranquil and private with the sound of the stream running faintly in the distance.
We would recommend this place to anyone wanting to experience a beautiful peaceful bush setting, which was simple and serene We only wish we had been able to stay longer! If you're looking for a quiet rustic getaway, this is the place for you!
We couldn't meet Mark but we loved Emma, Mark's daughter. The house is hand made, literally, with clay and paper and other stuff.
It has a kitchen and a fireplace which is lovely for rainy days. The house has a lot of books and a comfy corner to get lost in them.
I'd recommend this place to anyone looking for some time off from the claustrophobia of the city. We will definitely stop by for longer the next time around. Oh and the drivers creek cafe is nearby, if you need a quick bite and a coffee. For anything more, you'll have to drive down 3 lm's to coromandel town which is no biggie.
We absolutely loved our stay at the Pine House. It's cosy, full of character set amongst beautiful bushy forest. Mark is super friendly and popped in to make sure we had everything we needed. We felt at home and wouldn't hesitate to stay there again.
It's somewhere we imagine living: We had a great time at the Pine house! It was very cozy and comfortable and the outdoor shower was a real plus! Mark seems like a great guy and was quite welcoming, making us feel at home. Driveway for a small, low car could have been better, but not a real problem. Viv is the absolute best. I really don't want to leave this place. I've never felt so welcome or at home. Best views, amazing landscapes, Viv's place is the coolest and cleanest place with all the amenities.
A heat lamp getting out of the shower. I was surprised every minute. I can't say enough about this place. Viv has an amazing little self contained studio of which we had everything we could ever need! It's in a great location, central to all things Coromandel. Viv was very accommodating and made sure we had everything we needed in the studio. The weather wasn't great while we were there but it was still nice to sit in the beautiful garden with Vetta her friendly kitty exploring the garden.
Thanks for everything, Viv: Wow- what a great place- and a welcoming host! The place was exactly as advertised- plus she provided nibbles for breakfast! Great location , would recommend this to all our friends and family! Viv's place was wonderful. Not a lot of space but perfectly cozy for two people.
The shower felt amazing after long days hiking around and laying on beaches! The grill was also great and we ate some lovely meals on the deck with that awesome view! We wish we could have stayed longer. What a great little cabin to stay in, It was super clean and warm. Viv has made this into a safe, cosy and welcoming place.
I hope you enjoy it as much as we did. Viv had everything and more. Viv met us as soon as we arrived. We found everything to be as described on the listing. The accommodation is small, but well appointed and is located in a residential neighborhood that was quiet with a beautiful view.
Town is not just on the doorstep, but is within walking distance for a reasonably fit person. We very much enjoyed our time there and our visits with Viv, who was helpful with travel information for the area.
Viv was a great, uncomplicated and welcoming host. The cabin was cosy and we had a nice stay in Coromandel although the weather could have been better ;- Really recommandable. My partner and I spent 3 fabulous days here. This place is a perfect little get away, very cosy and modern with a beautiful view. It had everything we needed and is located just 3mins from a stunning beach to explore.
It also has a restaurant near by which has a great tasty menu. Spent a lot of time relaxing and soaking up the sun on the deck which was amazing. The bathtub is such a bonus! The communication with Ben was easy and he was always more than happy to help out with anything. The house is beautifully furnished and very neat. The water pressure and temperature for the shower was erratic and turned cold midway through a shower, other than this it is an amazing place with a view beyond words.
This spot is beautiful, it's closer than I thought to the beach just a short walk and you are there. The house is spotless and has a really comfortable feel, Ben was super easy to deal with and helpful.
We will definitely come back to stay again! Fantastic views with easy access to quiet beaches at least while we were there. Good use of space in the house. Felt like we had lots of room indoors and outside.
Deck has 2 chez plus a table with benches and an umbrella. A large BBQ and a clothes drying rack is available around the side. The first thing you'll notice about Ben's place is the view - it's simply stunning. We only stayed at the house for one night, but we found it had everything we needed, a comfy bed and cloud-like pillows and fast wifi. It was a lovely quiet stay in a gorgeous seaside location. We wished we could have stayed longer.
This place is just spectacular. Gorgeous views to the ocean and bush, plus the house was warm, dry, light filled and comfortable.
We had everything we needed for a great little weekend getaway. We even managed to squeeze in visits to the lost springs and new chums beach, which are both about a 20 min drive away.
I wish we stayed here more than one night to fully enjoy this special location. Clean, comfy and easy to find- this place is a real gem. Photos does not do this house justice. This place has everything that you will ever need, BBQ, washer and drier, great views.
Ben is also amazing, super responsive and provides awesome local advice on things around the area. Also check out New Chums beach if you ever decide to book this place. After a short drive it is a bit of a hike to get to but totally worth it.
One of the best beaches I have ever been to. We loved this cute little batch with nice arty details. Pippa is a lovely helpful host. Pippa's garden studio was a delight to stay in! Fresh, bright and airy, with everything you need for a few nights away. There was also an electric fan for which we were very thankful as it was a scorcher of a weekend! Pippa was not there in person but was in regular contact by text.
We couldn't be happier with our long weekend at Kuaotunu! Cosy accomodation in a beautiful location, so close to the picturesque beach and fantastic pizza place! Thoroughly recommend staying there for a quiet break from tourist spots. The beach bar is here too — great pizzas and local craft beer.
Fantastic place in a beautiful location, great host. Definitely worth a visit! We had a wonderful stay at Pippas. The place was perfect and she was there to help with anything we needed.
The cutest little place. Comfortable and just the right size for two. A terrific host, great food and the beach within a minutes walk away. A very spacious cabin in a great location. The House was very clean. It was laid out perfectly for us, parents in one bedroom on a queen, 2 daughters on the second queen in the other bedroom, the two boys on the bunk beds. Important to keep the windows and doors closed due to insects.
This is a rural location so we could see the stars very well. We had a great stay with an own BBQ , with enough space to eat on the table inside or outside and 2 big couches. White sand beaches around the corner. Don't drive during the night because you won't see how scenic it is around the area. Very clean, super comfortable and well equipped. We didn't meet Maria when we arrived but her fluffy cat came to greet us. It came around later at night too to check on us.
In the morning we met Maria before we left and she was very friendly and suggested that we checked Otama Beach out. This place is beautiful and we would have missed it if Maria hadn't mentioned anything about it. Totally recommend this house! We did really enjoy to stay here.
Especially with the barbecue facility, it was an enjoyable stay. We stayed 2 nights, and the place was certainly big enough for 3 people.
It's brand new inside, and very clean and tidy. Loved having the basics tea, coffee supplied. Kitchenette is very basic, so we were unable to cook there. Would definitely stay again, thanks! The cabin is beautifully decorated and very cosy. Set in a beautiful, secluded area yet close to the local amenities. Thanks for having us! Quiet place, perfect for a couple. The starry night is a dream since there is not a lot of artificial light around the area. Nickis and here family treated us well.
The small cabin was Clean and well suited for a couple. Had a really nice stay at Nickis and would recommend! Very lovely host and very nice space. A good relaxing get-away. Nicki's place was very clean and organized, the location is great, very close to the beach and the local restaurant -Luke's kitchen is very good and relaxing.
And we enjoyed the cat's company too haha: Thanks Nicki for a great stay. The accommodation is well furnished. As described in the other reviews, at the moment the kitchenette is just a fridge, kettle, toaster and crockery with outside sink. Which 'unfortunately' meant we had to visit the pizzeria! Maria was good to deal with. The photos are a good representation but you should be aware that the space is very small.
If you are really looking to be out and about just need a place to sleep, it is perfect. Short walk to town etc. Fabulous pressure in the shower. Perfect for a weekend getaway. Very nice, warm and cozy cabin. It provides a lot of privacy but if you want some company, you can have a chat with Maria! She gave us great tips and was very friendly. Also she has a lovely dog! Beautiful house, amazing view. Can't ask for anything better. It was pleasant stay we had. Everything in the listing was available and worked.
The view was even better in reality! A great place to relax. We even liked the Coromandel Peninsula better than the Bay of Islands although it was also good. This place was great value and highly recommended. Dear Dawn, dear Peter, we had a wonderful time in your cottage. Specially the view and the silence up there in the hill was really phantastic.
Coromandel is a very cosy and charming place and for travellers a must go. Thanks to the helpful Susan, who is taking care of your house as long as you are in Japan. The only thing that was not so perfect: The bathroom is really in need of a renovation. Best Regards, Annette and Holger. Wonderful location with easy access to Coromandel Town and very convenient for exploring this part of the peninsula. Comfortable accommodation adequately furnished and equipped.
Susan Lysaght was very welcoming and helpful. A lovely kiwi bach perched over the most incredible view of Coromandel bay. Very comfortable bed and great to have a BBQ on the deck where we ended up spending most of our time watching the boats go by.
A perfect getaway really peaceful and secluded. Thank you Dawn and Peter. Dawn and Peter are at the present time working abroad. The instructions for getting into the accommodation was very clear in their email. Communication between Dawn and Peter and ourselves was prompt and efficient enabling us to enjoy their wonderful accommodation. Their guide to Coromandel and the surrounding area was comprehensive and this allowed us to see much more of this area than perhaps we otherwise would have done.
The accommodation is situated on the hillside, looking out over the bay and the islands and we could sit on the deck watching the glorious sunsets. A wide variety of videos added to our experience. Second visit - still loving this Bach. Looking forward to a summer visit and barbies on the deck. Riley is great, his hair is everywhere though. Hard to find place in the dark the house number part of it was missing.
She is located behind another house down a long driveway. Alaine is a nice person she answered us each question that we had and recommend us places to visit. Her house is beautiful, the room is spacious and the bed is so comfy. Riley is a lovely, friendly and quiet dog. We recommend this place for sure it has all that you need. Alaine is a really nice host and we really enjoyed staying with her.
She has good tips for the cathedral cove and the drive is not to far! My boyfriend and I had a great time staying with Alaine and Riley. Alaine was extremely welcoming, approachable and knowledgeable of the area and things to do.
The room was clean and comfortable- we had 2 great sleeps that were needed after a big flight. And eggs on toast for breakfast was lush! Riley is a beautiful doggo with a lovely, playful nature and gives the best cuddles and kisses.
Definitely recommend staying here! Alaine is a great host, very easy to chat too and always willing to help. Her home is very comfortable and has good amenities. I recommend staying here. It felt very comfortable and we even enjoyed the same Netflix series.
She was super kind to pick me up from the city centre and I could borrow her bike to get into town the next day. Riley was such a sweet dog as well, both well behaved and playful. I can really recommend this place! Alaine was very friendly and knowledgeable about the area.
The room and her home were just right for two travelers. Ideal location for visiting Hahei and the surrounding area! Riley was adorable too. What a lovely lady and very welcoming. The beach is a stones throw away and it is absolutely stunning. Lynne's place was outstanding in every way, great hospitality and a very tidy place. Would definitely visit again. It is a clean and cosy but small apartment. We had everything we needed and more so we had a great time.
We would come back and always recommend it to others. Her place was clean and nice, very comfortable. The roads to get to her house are a little treacherous in the dark, but the location was good overall.
We would definitely recommend: The accommodation is cocooning, clean, near to the beach. Lynne is very friendly ; she wants her guests appreciate the stay. Lynne is a great host and her house is lovely. We were amazed with the cleanliness and the amenities. We would definitely recommend this place to everyone. Lovely little getaway with the township just a 5min drive away and everything you could need!
Fireplace, spa bath and Netflix installed on the television were a real treat on a rainy weekend away. Can't wait to come back. The Hidden Cottage is excellent value and is all it promises plus more. The property is so peaceful and quiet lots of native birds around and the dwelling has loads of character as well as being warm and cosy. The location is conveniently located to Coromandel township and is a fantastic base to explore the stunning peninsula.
It's a fantastic example of an off-the-grid dwelling with all the systems interacting seamlessly. Lovely weekend away at the Hidden Cottage! Would recommend to anyone who'd like to escape from the busy city for a holiday.
No trouble with the solar powered aspect of the home. My partner and I thoroughly enjoyed our time there. Will definitely return for a relaxing weekend getaway! A lovely hand-built off-grid home, nice views and lots of character. Close to Coromandel town and a good base for exploring. The house is only five minutes from town, with a great view. Kevin was kind and it was a nice stay. Clean sheets and towels were a plus! We had a great time in the small town. Nice place to stay!
Very lovely home for our two day stay near Coromandel. The cottage was clean and tidy when we arrived. We don't met Liz and Mike, but all necessary information for the cottage are communicated by them ahead of our arrival.
The cottage contain all necessary equipment in kitchen, bathroom an sleeping rooms. Nothing was missing during our stay! We enjoy this lovely stay! Two neighboring cabins that will be ideal for 2 families, but still far enough apart if you just want to do your own thing.
Kayaks were nice to have. Very comfortable and clean. Stayed here for 2 nights to explore the coromandel and the location was perfect. Close to all the coromandel hotspots but in a very quiet community right on a stunning beach. The Bach it's self was awesome with everything you would need and a great deck with a barbecue. Didn't want to leave, everything was fantastic!
It's a great location, short walk from the beach and very comfortable home. Everything you need for a beach side holiday is available: The closest town is 15kms away Whitianga , so plan accordingly to get food and any groceries if planning to cook.
The location doesn't have any cell phone coverage, and the wifi is a little sketchy. Perfect if you want to be disconnected and just enjoy the place.
Overall a very good experience. Lovely cottage near a river and couple of minutes walk to the sea. Our girls loved the bunk beds. Well equipped kitchen and nice deck with bbq. Good communication with Liz and Mike. A wonderful property in a very peaceful part of the coromandel, I wish I had longer to spend here and will definitely return in future!
Highly recommend Lukes pizzas nearby too. This place is a peaceful paradise. We loved every minute of our stay: The most relaxed, fun and nature-filled holiday! Great place to stay especially for families , with lots of advice given about all the hiking walks you can do around. So quiet and remote, you feel like you are alone. Great place in the woods!
Wonderful cabin that allows you to get some time away from everything. We wish we could have stayed longer! We stayed at Dutchman 2, a treasure of a cabin on Belindas Station.
The drive there was really well described, it was remote and just a beautiful spot to spend some quality time outdoors. Check in was really easy, everything was prepared when we got there. There was a whole folder with suggestions for things to do and we could have easily spent a week or more - it's a shame we didn't have more time and we'd love to come back! It was one of the best places I've ever stayed and I was sad we couldn't book it for longer.
I'll highly recommend it for people who love nature and prefer to be outside and explore their surroundings. The area is just amazing and it's nice to do walks and hikes without meeting other people for a change. Thank you Belinda for sharing your place. I'll definitely come back. Take the opportunity to do a horse trek while staying there, riding in such a stunning setting. The bush cabin provided a cosy base to play cards at night and read.
We really enjoyed Whitianga. Kath was courteous and welcoming and the price seemed about right for this locale and time of year. Having no door meant my snoring was a problem apparently. On-site laundry facilities were not available because Kath's own house next door was occupied by another family.
Kath visited her own family out of town while both residences were in use. We were notified of this change about 10 days prior to check-in, 4 months after booking our trip. The same message suggested we park our car up on the road at night because of building materials stacked in our designated parking space, which was a challenge to get out of.
Problems with the Sky TV box didn't matter as we had brought along some books. Lovely little cottage, very comfy and with a beautiful decoration. Very well located, view on the sea. Definitely one of our favorite accomodations during our travel. If you have a car, it is conveniently located as well and has got a nice view of the bay. Sadly, communication was rather on the bad side. I asked if 4 PM was fine for check-in in the morning and only got an answer past the official check-in time.
We also did not know how the check-out was supposed to go down. Kath quickly showed up to ask us if we had any trash on trash day and that was our only interaction, where upon I asked about the check-out. The wifi is rather poor, allowing access to two devices max, sometimes only one. Since the four of us only spent a night at this place, it was alright. For a longer stay not ideal though. All in all the house was cute and a good start to our trip.
Can generally be recommended. Our time at Kath's place in Whitianga was fabulous. The small bach was fully equipped, very warm and it was on a great location. The view from the balcony was beautiful. Communications was easy, and they had thought about everything we could have needed. Warm extra blankets and hot water bottles. Thank you, we definitely recommend this place. Beautiful place in great location, sparkling clean.
Waking up to views of nature was restful and it was also great to have views across the bay. The walk to Whitianga was lovely, mostly along the beach.
Fantastic area to explore. Beautiful home - especially with the updated paint job. Close to beach and town centre. Check-in was easy and Kath was a lovely host who was easy to get in touch with. We booked just a few hours before arriving and we were so grateful to be accepted and welcomed! They gave great tips on hot water beach and cathedral cove and our stay was very comfy! Stunning beach and views. Lovely cabin with a comfy bed.
What more do you need? Excellent back-to-basics retreat in a spectacular ocean view location. A great place to slow your pace of life. I didn't have many chance to talk with them because of my short and busy schedule, I could feel they are warm-hearted couple.
Swedish ambassador talking Tuia in Whitianga 19 September An emotional and eye-opening journey around Italy 19 September Community ownership of Kuaotunu Store considered 19 September Geith and Shirley Pickford - staying in tune, but now playing to a different beat 19 September Hahei parking proposals get big response 13 September Long may speedway continue in Mercury Bay 12 September Coordinators appointed to help arrangements for Tuia commemorations in Mercury Bay 12 September Read All The News.
In this area are so much beautiful beaches, amazing! This was the cheapest of our week stay away and right up there with the best. Bed was super comfy. Nice, quiet, and a great spot to access Kuaotunu, Otama, Whangapoua, and Whitianga We were only at the BlackJack cabin for one night, but as soon as we arrived we wished we could have stayed many more nights. The cabin looked brand new! The kitchen was spotless with everything you needed in and the Bathroom, Bedroom and livingroom were all very stylishly done.
We enjoyed sitting on the decking eating in the evening. The Location couldnt be better. We had breakfast and coffee there and it was brilliant. The beach 5minutes walk away from the cabin is beautiful, sandy and good for swimming And Nicky gave us some great tips for beaches only 10minutes drive away, which were deserted just us and brilliant white beaches. We couldnt have been happier.
My son did not want to go home! The location is lovely, the hosts were delightful, the cabin is really comfortable and local beaches are a dream.